Find Local Tree Services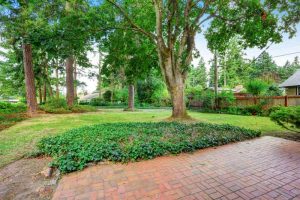 When it comes to tree cutters and pruning service costs, everyone wants a "low price" estimate.  But do you truly know what you will be getting for your hard-earned dollars in that estimate?
As with most improvement projects around your home or business, you always have to consider – do you want a "cheap job" or a professional service that will get the entire job done right the first time?
We work with some of the most highly experienced tree surgeons and arboricultural contractors in your area.
We offer expertise and advice on all tree cutting, tree trimming, and stump removal services in your local region. If you want to get in touch with highly skilled professionals for a fair estimate, We Can Help.
What is a Tree Surgeon?
A tree surgeon the person that climbs the tree and "surgically" removes branches without damaging the rest of the tree. However, there is a difference between a tree surgeon and an arborist – with the latter often referred to as a "tree doctor", even though it doesn't quite accurately capture the profession.
The main difference is education, but tree cutters are still able to solve many of your problems when it comes to the trees around your property. Nowadays, tree surgeons adhere to many health and safety regulations. Everyday gear includes safety harnesses and equipment like hard hats, gloves, boots, and trousers.
If you've got broken branches or dead branches on a tree, a tree surgeon will go up there to remove it and lower it to the ground safely – making it safe for any members of the public walking beneath the tree.
How do Tree Surgeons Climb Trees?
Before climbing a tree, some preparation is necessary.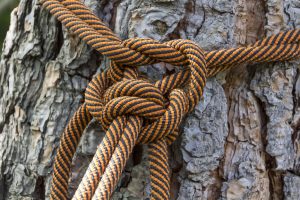 Most often, a rope climbing system is securely attached to the tree that offers the tree surgeon some load-bearing anchor points, much like rock climbing.
Once in place, the tree surgeon is free to move up and down the tree with the necessary equipment.
Other trees may be unstable due to years of neglect and rot.
Ropes can be attached to diseased trees to offer additional stability before any work can be done. When trees are too weak to climb, so an elevating platform and a crane may be put in place. Once the tree has been secured, the tree surgeon proceeds to reduce the stress on the tree with precision cuts.
Tree cabling
Tree cabling is often employed to save a tree instead of cutting it down. Cables are attached around a tree with areas of decay, a split trunk, one with awkward branching habits, a tree with a poor root system, or any tree that's simply at risk of structural failure.
Tree cabling can prevent large limbs, trunks, or entire trees from crashing down and causing damage to your property or people who walk underneath it.
About Our Tree Doctor Services
We have the skills and the resources to accomplish all facets of residential & commercial tree work.
Our primary difference is the business-like way we treat our customers and the assistance we can offer them.
We pride ourself's on the service we provide.
We have the knowledge and the experience to help you care for your trees, shrubs, and lawn. We approach your property like it's our own.
We will put you in touch with fully Licensed and Insured contractors that have the necessary documentation as well as General Liability & Workers Compensation.
We offer a wide range of tree services near you:
| | |
| --- | --- |
| Tree Removal | Tree Stump Removal |
| Tree Pruning | Dead Wood Removal |
| Tree & Shrub Trimming | Arborist Consultations |
The Professional Tree Removal Service Providers
Do you want a company with General Liability and Workers Compensation Insurance, the Best Equipment, and last but not least Safety First?
We know excellent work and good prices are important to you. That is why our rates are totally reasonable when compared to most regional pricing trends.
When you request your free estimate, we will offer you various options in completing the job to best match your unique requirements as well as budget. We look forward to serving you!
Request a FREE Quote from Local Tree Removal Services
Are you considering a tree removal service and ready to compare some estimates from professionals near you?
If you're in serious need of a reputable tree removal service to assess your situation, why not reach out to local contractors now and compare some of their rates.