How Much Do Tree Removal Services Cost?
Let's face it, tree removal services are essential.  Sometimes you have a tree on your property that's simply too dangerous and unstable to remain.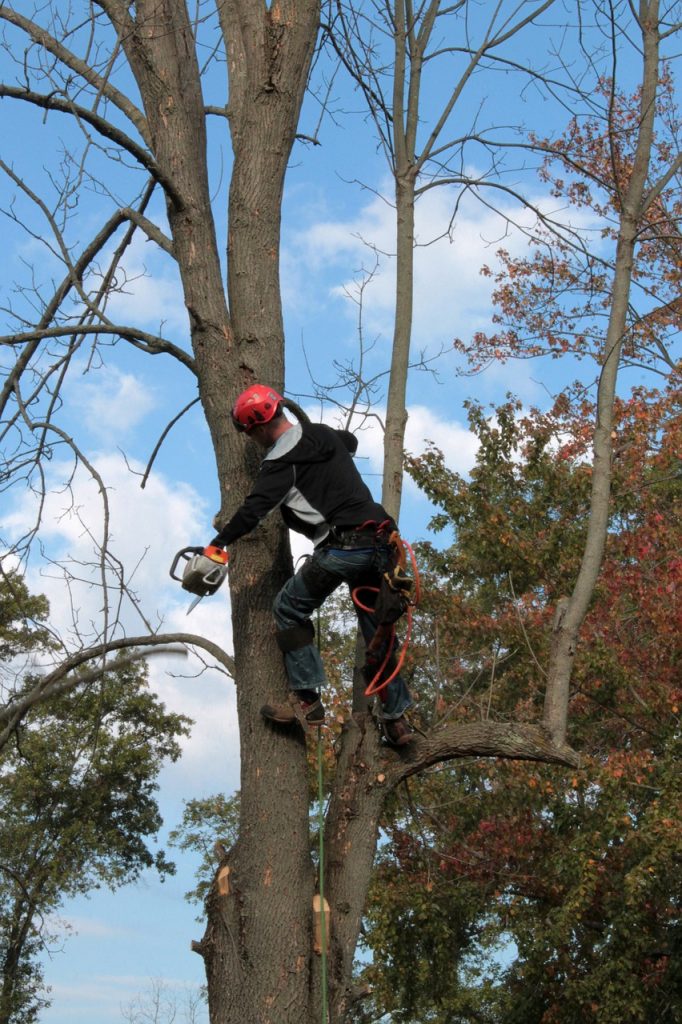 You might even have a tree that's just not suited to your property and doing too much damage.
Equally,  when left to grow for years without any tree trimming or pruning, they end up dropping giant branches in your yard-making them a potential hazard for any person or vehicle passing under them.
Other times you might simply have a tree that's not totally healthy and you may want to get someone to look at it before you decide, on what action to take.
Whatever the reason may be, sometimes, a tree removal service is your only option.
If you've recently needed to have a tree taken out of our yard, you've probably thought of ways to get it done safely and with the least amount of hassle. And you've probably considered getting up a ladder and doing it yourself.
Keep in mind that cutting down trees is a dangerous occupation and accidents do occur regularly. Regardless of all the safety standards adhered to, many lumberjacks and arborists are still injured in the line of duty every year.
Remember, anyone with a chainsaw can take down a tree, but before you try to do it yourself, it always pays to know just exactly what the cost of tree removal will be for your particular situation. And that means that you need to know what to look for when hiring a local tree removal service.
What To Look For When Hiring a Professional Tree Removal Service
When considering tree removal specialists, you need more than just a handy DIYer. In some cases, you might even have to get in touch with an Arborist who understands tree health and how to deal with it if it's an heirloom, fruit, or tree of historical value.
Before taking any unnecessary steps, you might want to diagnose a disease or insect infestations and find someone who can safely handle the equipment for successful removal.
It's always a good idea to find somebody who already had some trees removed and ask them and get their opinion on it.
Talking to friends or neighbors about their experience can also help you prepare for your own tree removal day. However, when hiring a professional tree removal service, look for the following:
Insurance
The first and most important thing to check is insurance.  Anything can go wrong at any point when it comes to tree removal.  That's why you want to shop around and most definitely do not just go for the first and most affordable person you find. If they cannot provide proof of insurance, move on to the next one.
Equipment
Always check what type of equipment the company will be using. Is the equipment in good condition? What sort of safety equipment will they be using? Reputable tree removal companies provide their employees with the necessary safety gear.
Check how they will be removing the big tree branches and chunks of tree. Do they have a crane? Will the large chunks of tree be roped down or simply be dropped to the ground to make big holes? Do they offer a tree stump removal service?
When hiring professionals to remove a tree in your yard, ensure they are able to remove and take away the entire stump. You don't want to sit around and wait for someone else to come and remove the stump.
Time
Tree removal times can vary greatly from job to job and regional location. Check how long the removal will take. Also, check to see if they offer a 24-hour emergency tree removal service.
How Much Does It Cost To Remove a Tree
Without getting some of your information, it can be hard to determine exactly how much tree removal going to cost.
For one, the size of the tree(s) being removed will be the biggest determining factor, but several other factors can also impact the overall cost. Equally, the thickness of the branches as well as the complexity of its root system will be considered.
However, there are some estimates that can be made based on national averages. Below is what you can expect to pay for tree removal services.
Cost to Remove a Tree
Up to 30 ft.
$150-$412
30-60 ft.
$657
60 -100 ft.
$900-$2,025
National average range
$450-$925
Depending on your location, here is an average cost estimate to consider. Be sure to get in touch with a local professional, however, if you want a more accurate breakdown of the cost of a tree removal service near you.
| City | Typical Cost |
| --- | --- |
| Asheville | $595-$905 |
| Austin | $500-$875 |
| Charlotte | $585-$917 |
| Chicago | $530-$850 |
| Dallas | $338-$618 |
| Denver | $346-$683 |
| Houston | $594-$705 |
| Las Vegas | $301-$527 |
| Los Angeles | $645-$1,015 |
| New York City | $685-$1,145 |
| Portland | $455-$780 |
| San Antonio | $595-$1,025 |
| San Diego | $489-$705 |
| San Francisco | $810-$1,350 |
| San Jose | $615-$930 |
| Seattle | $545-$810 |
| Washington D.C. | $250-$750 |
Additional Factors to Consider
Trees with multiple trunks or ones that are in hard-to-reach areas will be more expensive to attend to as it may require additional special equipment and labor.
If you live in a remote location, or simply cannot find someone in your local area to assist, you might have to factor in additional travel costs. This shouldn't affect the overall price by more than $100, so be sure to check.
In the event of an emergency, you should be budgeting at least a 10% mark-up on the overall price.
Should the land around the tree need clearing, the overall tree removal cost could increase by an additional $100.
Additionally, permits are required for trees that are 10 feet or higher in most cases.  It is always recommended to check local requirements and prices as they will differ from region to region. Expect to pay in the region of about $58–$150.